China's capital Beijing has been enveloped in the worst sandstorm in a decade, along with a wide swath of the country's north
Přidáno: 16. 3. 2021 09:21:26 Počet shlédnutí: 164
16 Březen 2021
China's capital and a wide swath of the country's north were enveloped Monday (March 16, 2021) in the worst sandstorm in a decade, forcing the cancelation of hundreds of flights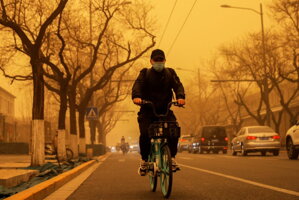 Skyscrapers in the center of Beijing appeared to drop from sight amid the dust and sand. Traffic was snarled and more than 400 flights out of the capital's two main airports were canceled amid high winds and low visibility.
The National Meteorological Center said Monday's storm had developed in the Gobi Desert in the Inner Mongolia Region, where schools had been advised to close and bus service added to reduce residents' exposure to the harsh conditions.
Such storms used to occur regularly in the springtime as sand from western deserts blew eastwards, affecting areas as far as northern Japan.

The National Meteorological Center forecasted the sand and dust would affect 12 provinces and regions from Xinjiang in the far northwest to Heilongjiang in the northeast and the eastern coastal port city of Tianjin.

https://abcnews.go.com/International/wireStory/flights-canceled-chinas-worst-sandstorm-decades-76458994?cid=social_twitter_abcn